Challenges to internal security through communication networks, role of media and social networking sites in internal security challenges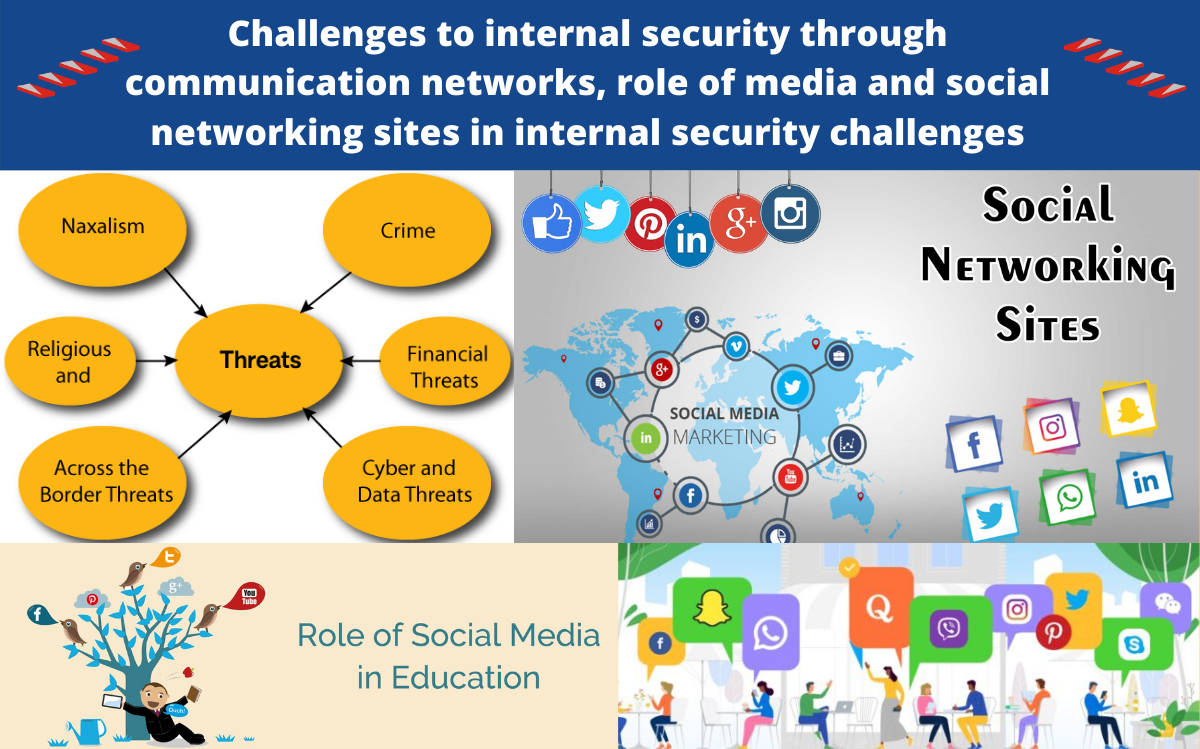 Challenges to internal security through communication networks, role of media and social networking sites in internal security challenges
1. Karnataka Water Resources Minister Ramesh Jarkiholi landed thick in the middle of a controversy after a police complaint was registered against him alleging sexual harassment of a 'job aspirant' and issuing threats to her and her family of dire consequences.
2. It is quite regrettable that politicians are often hit by scandals arising from leaked footage purportedly showing them in intimate proximity with women.
3. Minister obtaining an interim High Court order, that media organisations should abide strictly by the Programme Code prescribed under the Cable Television Networks (Regulation) Act.
The Cable Television Networks (Regulation) Act 1995 :( ISSUES)

1. Section 20 of the Cable TV Networks (Regulation) Act, 1995, states that the government can regulate or prohibit the transmission or retransmission of any programme that it feels is not in conformity with the Programme and Advertising Code, which oversees television content in India.
2. In order to keep track of cable operators, it has mandate a compulsory registration for cable operators. It also lays down provisions to regulate content to be broadcasted by the cable operator.
3. Under the Act, district magistrates, sub-divisional magistrates and police commissioners are the 'authorised officers' to ensure that the Programme Code is not breached.
4. Under this Act about 70 media organizations, including television channels, social media platforms, digital media outlets and newspapers have been arrayed as respondents.
5. HC order is unexceptionable; the broadcast media are expected to conform to the Code. However, when such an omnibus order is passed, it could become a tool of harassment.
6. The Code, which is part of the Cable Television Network Rules, is widely worded. For instance, anything that offends good taste or decency, or amounts to criticism of friendly countries, is violations.
7. It also considers defamation, half-truths and innuendo as potential violations. In the absence of judicial orders, it may be unsafe to leave such matters to the discretion of the 'authorized officer'.
8. The Section 4A was inserted into the Act by the TRAI (Amendment) Act, 2002. Section 4A deals with "transmission of programmes through addressable system". Refer to section on "2003- Amendment to the Cable Television Networks (Regulation) Act, 1995 (Amendment Act)"
Government has made a new draft Cable Television Networks (Regulation) Amendment Bill, 2020:

1. Government has proposed to amend the Cable Television Networks (Regulation) Act, 1995 with the approval of Hon'ble Minister for Information & Broadcasting.
2. It has increased the monetary penalty amount and insertion of a new subsection regarding penalties for violation of the Programme Code and the Advertisement Code.
3. The proposed amendment has deleted the existing provision of subsection (1) of Section 4A, i.e. (4A) Transmission of programmes through digital addressable systems, etc.
4. Another proposed provision includes the inclusion of 'broadband internet access' in right of way, shifting data maintenance from manual to electronic form;
5. "Maintenance of register, inclusion of certification of the equipment by BECIL or any other technical auditor, power to seize equipment used for operating cable television network and addition of other relevant laws and updating the existing ones.
The decision on content :( controversial)

1. A key consideration to decide on the content of any broadcast that may be controversial is whether it touches upon any public interest.
2. In this case, it is not merely the private moment of a serving Minister, but his public conduct that is under scrutiny for the allegation is that he had promised a job to a woman in exchange for sexual favours.
3. Others said to be contemplating preventive legal action against the future release of such footage were defectors who brought about the fall of the JD(S)-Congress government not long ago, would impart the episode with a deeper cause for a thorough investigation.
4. Of course, in the absence of any complaint from the woman, or even any knowledge about her, it is difficult to prove any wrongdoing. And not even public interest can justify a flagrant breach of privacy of anyone, or the depiction of women in a derogatory manner.
5. But sections of the media may have considered that there is enough public interest to draw attention to the footage, even if they had no intention to air it.
Conclusion:
1. There was a lot controversy with respect to implementation of the Cable Television Networks (Regulation). It is important to understand the structure of the cable market. The cable market is divided into three categories. Broadcasters, who are at the top of the pyramid, the Multi-System Operators are in the middle and the local cable operators are at the bottom of the pyramid.
2. The Central Government, in public interest can put an obligation on every cable operator to transmit or retransmit a programme of any pay channel through addressable system. In public interest the central government may also 'specify one or more free-to-air channels to be included in the package of channels' basic service tier.
3. The onus is on media outlets to show discretion in dealing with such 'leaks'. Greater discretion may be warranted for political leaders, especially those with a record of political dishonesty, for it is difficult to blame the public if they expect the worst of them.